Still into knits for this very practical reason, aka the cast on my wrist…
Although leather is a material that has become more and more accepted to use for office clothes, I still think it's a balance between the formality and the rockier/sexier association given by the leather. So just the fact that I'm wearing a leather skirt is a little bit of a shocker. For example I would never wear a short, slim skirt in leather, it just becomes too much. But here in this skirt the width creates more of a movement and the shape balances the rockier impression from the leather. Altogether I would say it's a funky skirt.
Interestingly the shape of the skirt is created from panes sewn together giving the impression of a pleated skirt. A pleated skirt in leather would probably be too bulky on me giving an impression of too broad hips. In this way the panes adds liveliness to the surface of the skirt. See detail below.
The skirt is from last year and it's become one of my favorites.
Turtleneck – COS
Skirt – Theory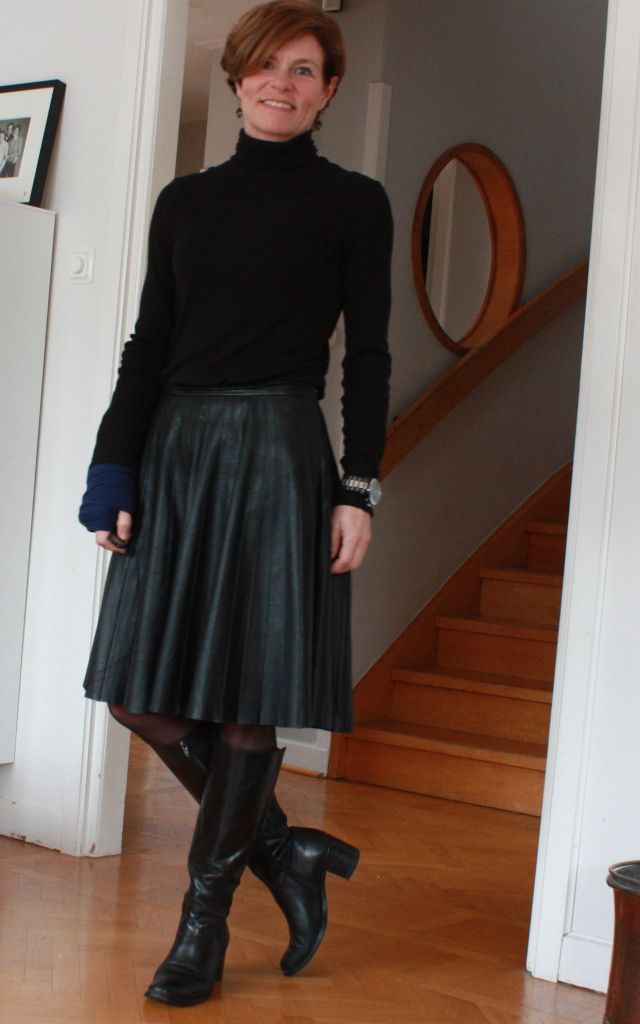 The turtleneck is in thin wool with a slim cut, new for the season, to give an updated look to the skirt.
If you look closely you can see that the pleats are fake and created from panes sewn together.