… what characterizes my style? Minimalistic, comfortable, feminine but not cute, with a twist or a funky detail and I like to feel that I'm in trend. I'm always rewearing pieces for many years, there are pieces that I'm truly in love with! Especially those that I've made myself! One of my devices is that the best investment you could ever do is to keep your weight stable. Chose which ever weight you feel best about and keep it! Because that means you can actually live by "rewear"!
I almost forgot but I'm very picky with the quality of the fabrics! I think this has to do with me sewing and it's such a difference when you work with great quality. It can completely throw off a good idea if the fabric is low quality! Always, always make your purchases in high quality natural fibers!
Last day of the challenge I let this outfit represent my style. This seasons key piece is my nude leather skirt!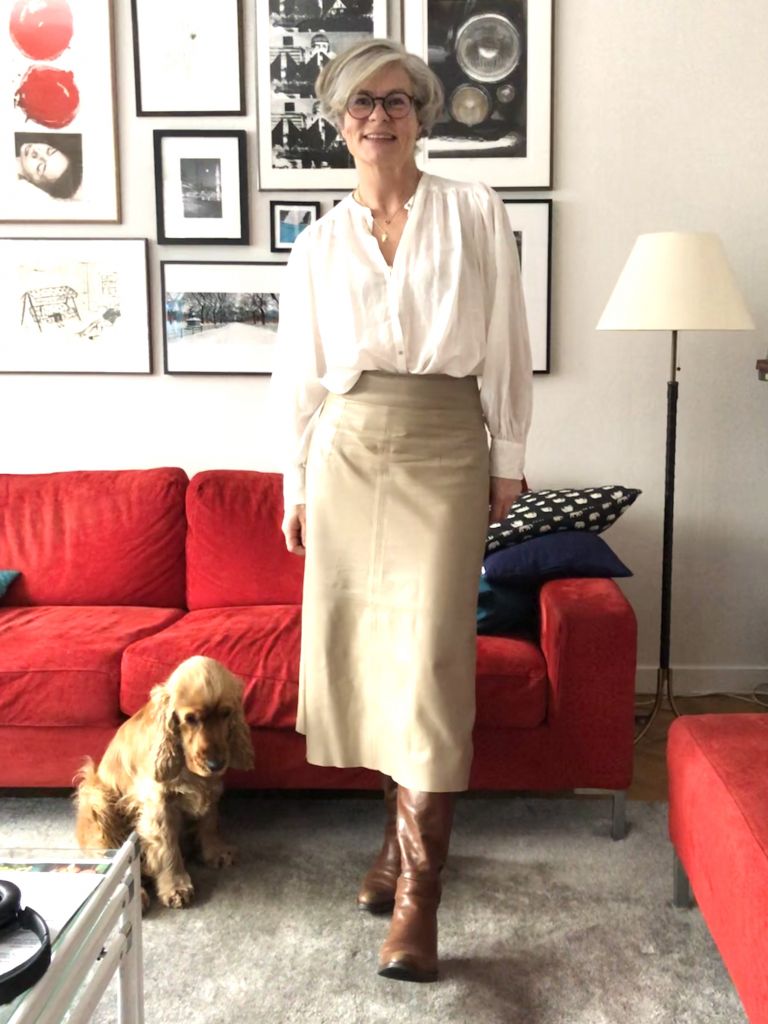 Skirt – Arket
Shirt – Zadig et Voltaire
Summary of the past week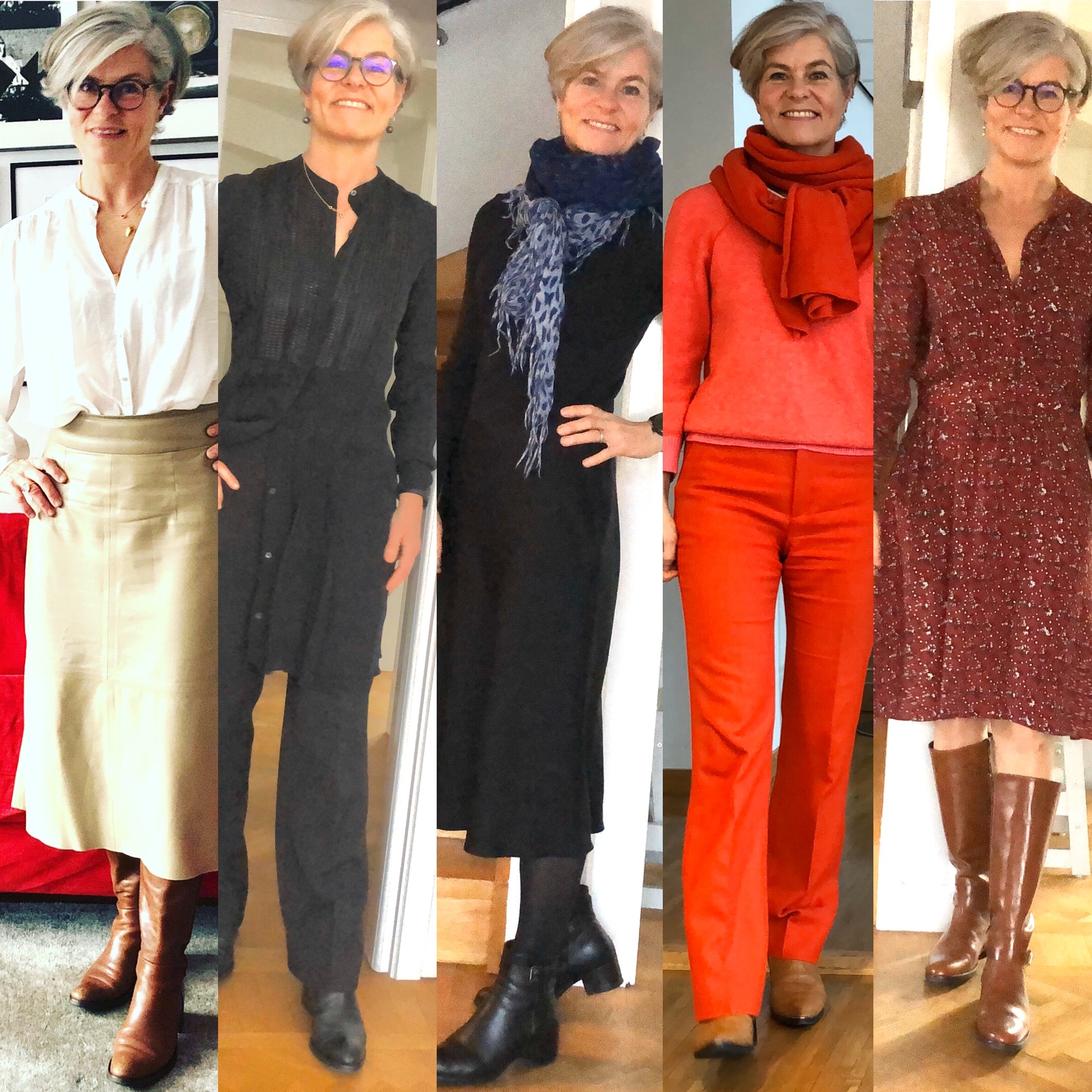 When looking at it I might add that I like to add some color to my outfits!!
Monday – my weak spot! Manicure? In lack of rather than how it looks like….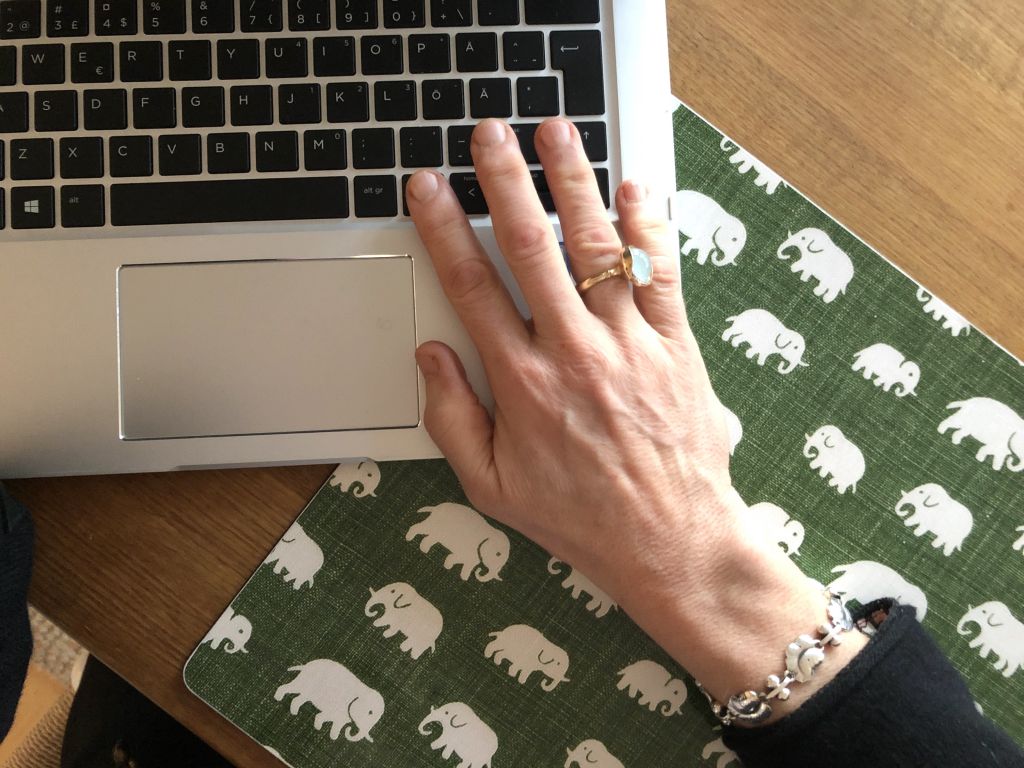 Tuesday – Dare the dress – I do wear dresses as part of my office styles and I try to pick different styles & colors. It adds a bit of variation to the black, blazer, suit styles….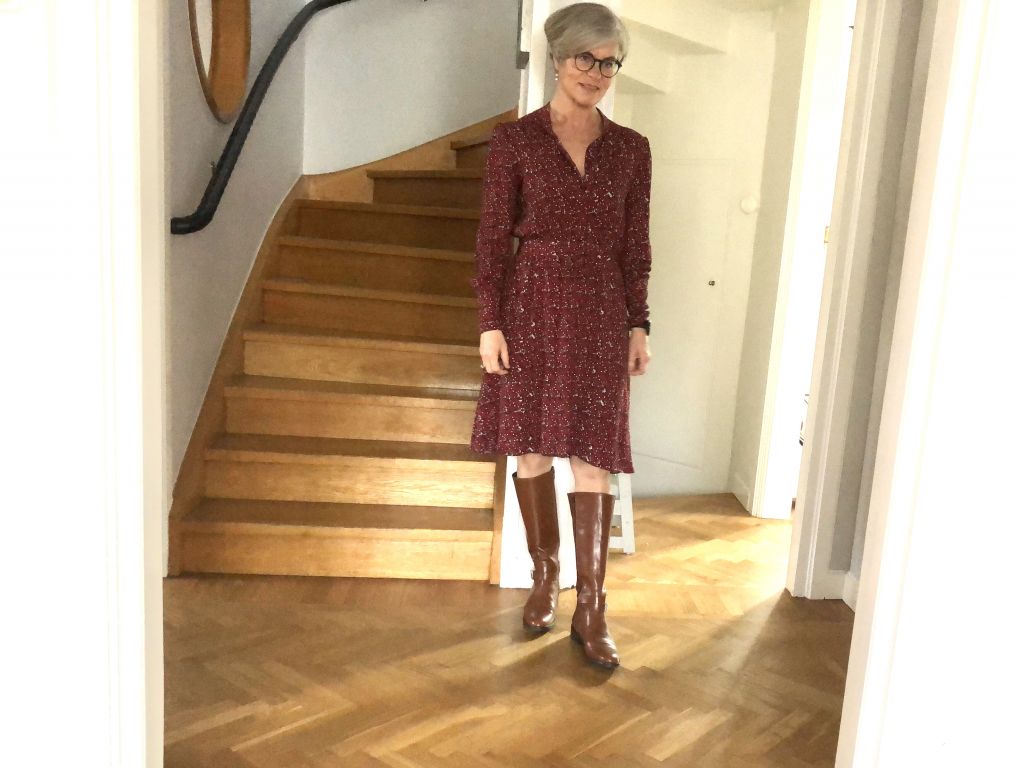 Dress – and other stories
Wednesday – Pink Wednesday. I do have some pink and the last addition is this wool brocade skirt made by me! In love with this fabric from Italy but bought in New York!
The Aline cut is one of my favorites, very flattering for my type of figure.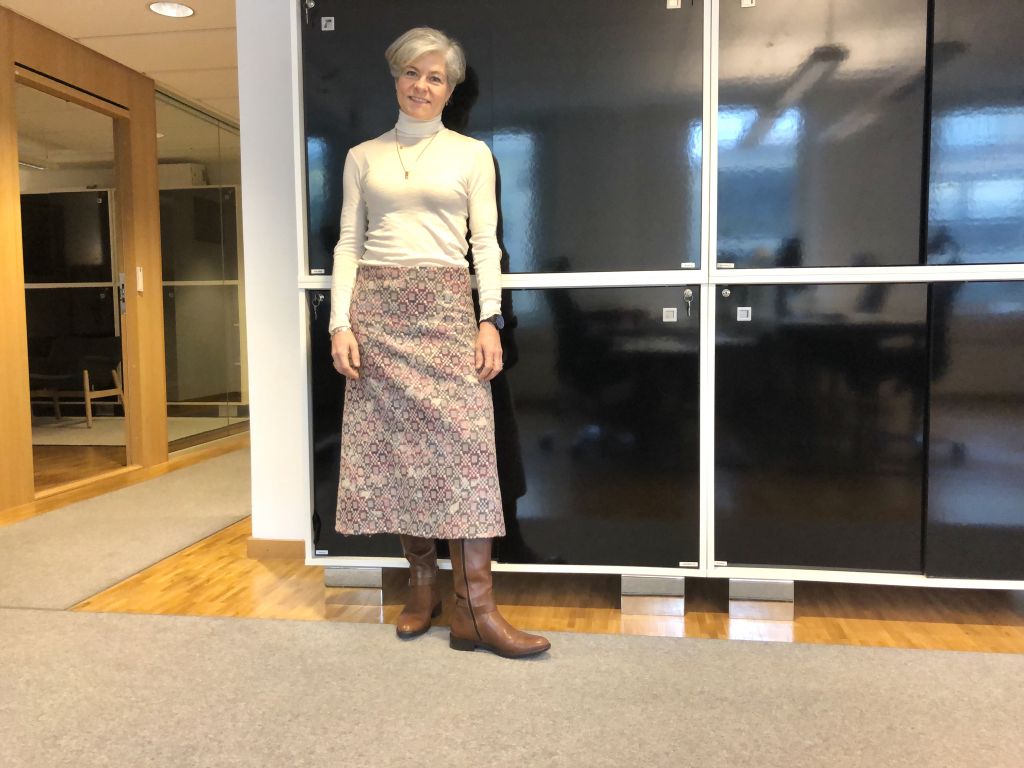 Thursday – Mix of colors. Styled my most colorful item , a suit from Sand Copenhagen, and most commented! You can't wear orange red and expect to go unnoticed…. Today I styled the pants with a cashmere knit in pink and red, a great match to the orange red in the suit! From J.Crew.
The scarf is from Cos and it's the exact red color of the pants!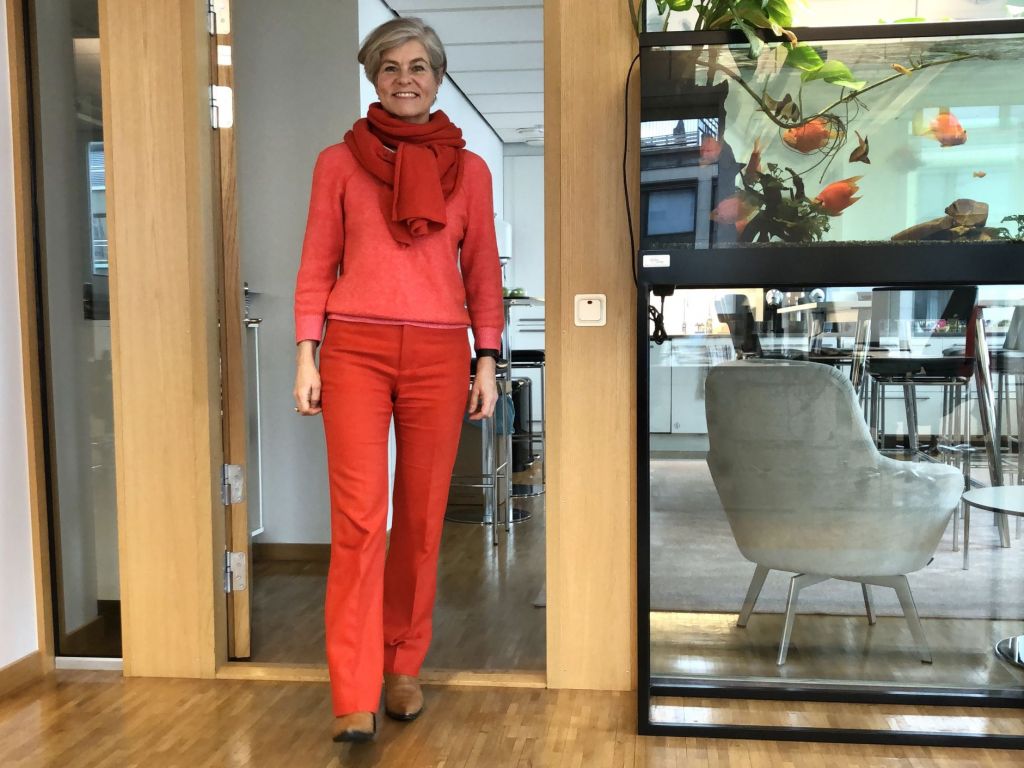 Friday – a forgotten piece. Which one to pick?! I chose a relatively new one, a shirt dress that dates back only 5 years but it has been "resting" this winter season. Here I styled it for the first time with wide legged pants. Quite happy with the outcome.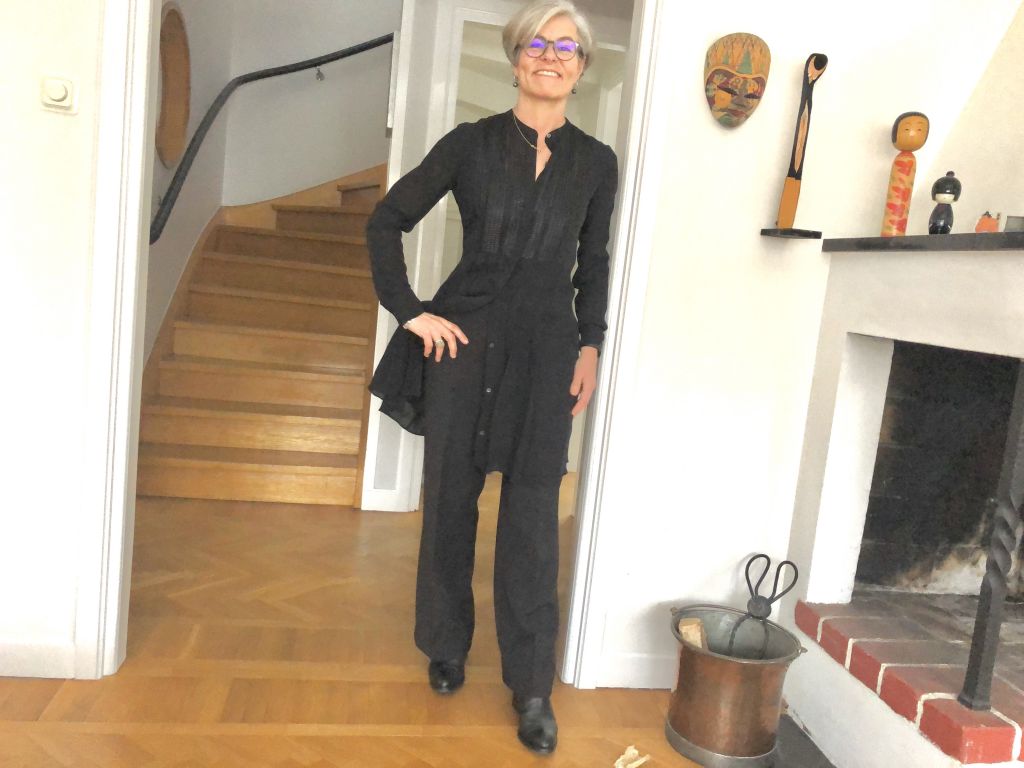 Dress – Vince
Pants – Samsö samsö
Saturday – style the scarf. I usually do scarves for outer wear, I tend to be too warm when inside… Occassionally during winter this might be an outfit that would occur, especially with this soft woven. wool scarf with blue butterflies! 🦋 A little bit of a summer feel!